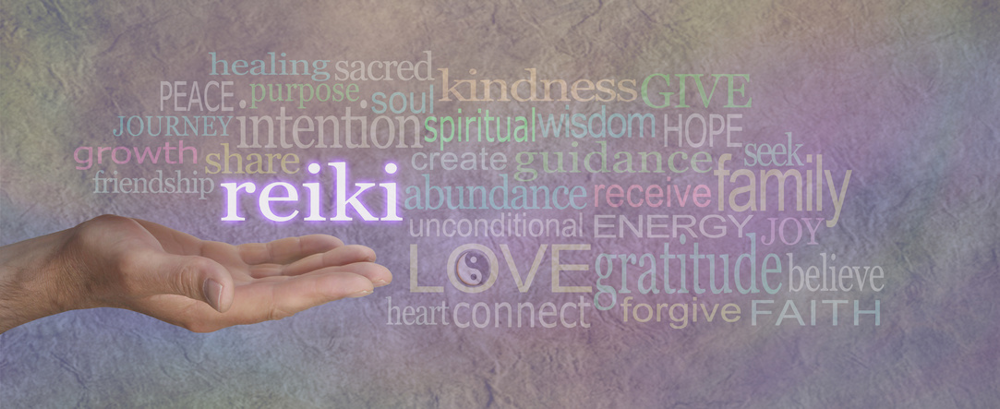 My mantra: In any given moment, always reach for the very best thought 

you can find. ~ Cia
Hello! And welcome to my web site.
I'm a creative (artist, writer, web designer), and an energy worker (Reiki Master, Certified Crystal Healer, and shamanic practitioner). These areas of my life overlap in amazing ways. Here at Briarwood Studio I offer aura imaging; chakra energy healing, Reiki wellness sessions, crystal consultations, and shamanic journeying for spiritual healing. I also teach classes on spiritual topics that are geared toward female empowerment, as well as sacred arts and crafts classes.
For more information on the services I offer, please click the Services tab above, or see the Workshops & Classes tab for current class offerings.
My Reiki and Crystal Work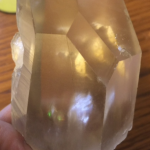 Reiki is a technique for stress reduction and relaxation that also promotes healing. It is administered by laying hands on or above the body and is based on the idea that an unseen life force energy flows through each of us. When this energy is blocked or obstructed, particularly in the seven main chakra points located within our bodies, stress and "dis-ease" often result.
Reiki is spiritual, but it is not religious. It's also not meditation, massage or prayer, though it has similarities to all of those. Each person brings their own beliefs and values to a Reiki session, so each session is unique to them.
I also utilize crystals during my Reiki sessions for clients.  They have amazing energy!  If you are in need of de-stressing in your life, or just want to feel rested and relaxed, give yourself the gift of a Reiki treatment. You won't believe how good you'll feel. Or better yet, come in for a crystal consultation and we put together a set of crystals designed for your personal goals and needs.
Creating Sacred Arts & Crafts
Sacred Art is a very subjective term, and the question "What is Sacred Art?" will elicit varying responses depending on whom you ask. To me, as an artist, Sacred Art is creative imagery that lifts up the mind and heart to the spiritual, and it does this for both the artist when creating the art, and the viewer upon observing it. And most importantly — to me — it's about love and joy.
Creating Sacred Art is a series of fun-filled classes that celebrates our connection to spirit. Using arts and crafts techniques, we build on ancient and modern traditions to create sacred art, tangible representations of our prayers and intentions. These pieces are perfect for you to use on your personal altar/sacred space in your home or to give as special, energy-filled gifts. We let our hearts and intuitions guide us as we create.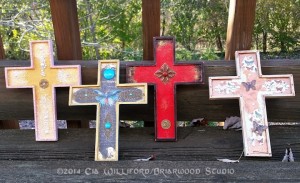 Check the schedule  to see upcoming classes, or book a special fun-filled class for you and your friends (maximum of six per class).
As a highly creative — and super sensitive person — I appreciate the spiritual, uplifting, and loving things this universe has to offer.  I try to create work that is infused with energy and loving intention in the hope that my work will honor and bless all who come into contact with it. That is my fondest wish.
Pull up a chair, cuddle a cat, pour yourself some tea, and let's visit!
I'm honored to have you here.