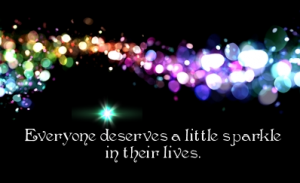 I have a confession to make: I love glitter.
And sparkle.
And glitz.
Now, if you had known me when I was younger, you would be totally flabbergasted by that statement. Glitter? Cia? Hardly.
Along the way, though, I changed my mind. (A woman's prerogative, right?)  And now I think that glitter is one of God's gifts to mankind. Why? Because glitter is happy. Glitter is joyful.  Glitter is happy, joyful, sparkly lights,  people.  What more could you want?
Also there is this: glitter makes people smile.
And in my book, that's a wondrous thing. A truly wondrous thing.
Glitter, anyone?